P4G Music Manager simplifies music replacement to just picking what file you want to use to replace a song in P4G, no command line needed. It also saves what loop samples you used for each file, and loads them back the next time you select the same file. No more writing down your settings in some text file. Using the play button opens up the file (original, after extracting, or replacement) in your default media player, useful when comparing songs!
Requirements:
TGE's xacttool*:
https://shrinefox.com/forum/viewtopic.p ... =335#p1238
*xacttool
requires
.NET Core installed:
https://dotnet.microsoft.com/download
Setup:
The app shows some basic instructions on how to get up and running. Let me know if more in-depth instructions are need.
Usage:
Download Icon: Extracts wav files from BGM.xwb
Attachment Icon: Opens a file select window, choose the file you want to use to replace the song.
Pencil Icon: Create a new BGM.xwb with current songs.
When you're ready to make a new BGM.xwb, hit Save then Create. Depending on how many songs were selected, this might take a while. Once it's finished, a single new BGM.xwb with all your songs can be found in the output folder of the app. Copy and paste it over P4G's BGM.xwb and you're done!
Known Issues:
Long file names will break the layout. If someone knows a way to fix that (CSS or Javascript), let me know!
Sometimes the app won't close properly if opened, closed, and reopened quickly and repeatedly. Haven't noticed it under normal use. Use Task Manager to kill the process if it does!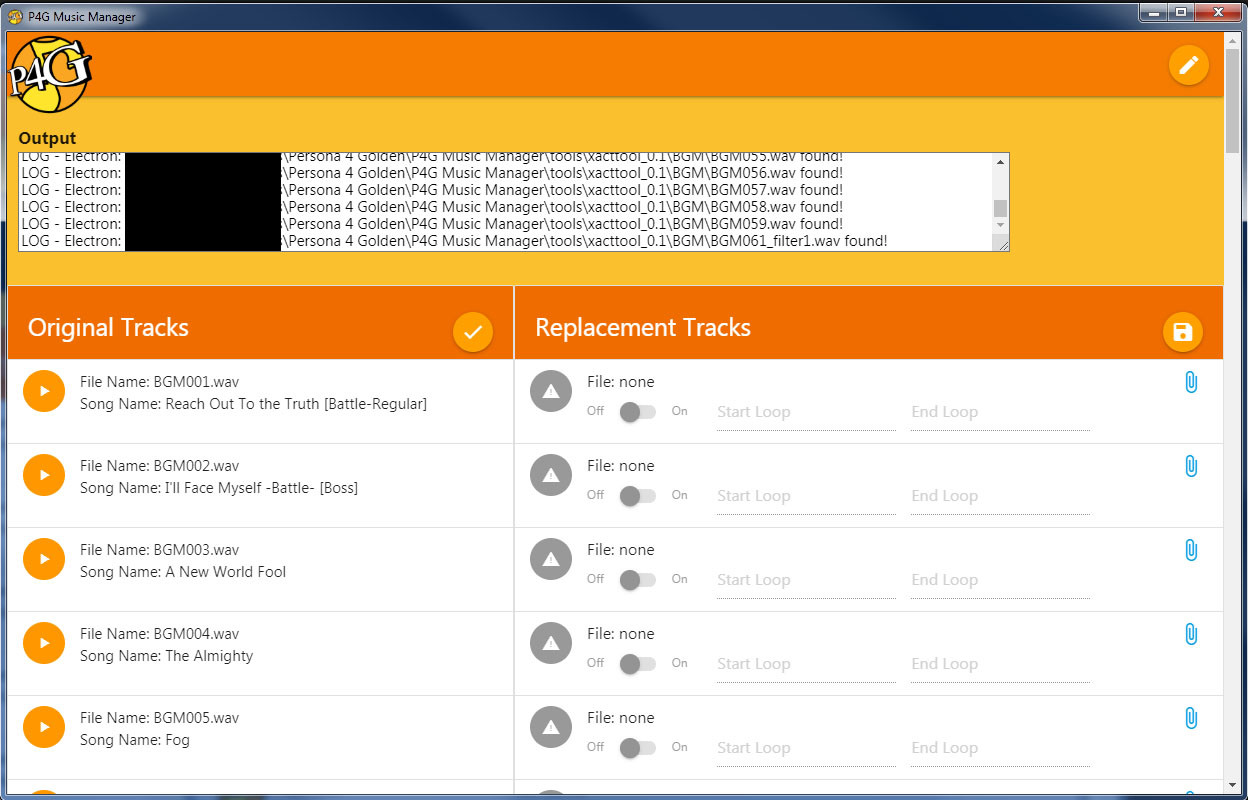 Download @ GameBanana:
https://gamebanana.com/tools/6835